A homeowner who needed a furnace repair heard there was a very smart man who lives in the bluffs above the Mississippi River in Mississippi Palisades State Park. Surprisingly enough, when the homeowner climbed to the top of the bluffs, he found the man who had long white hair. He was sitting on a rock gazing down at the river. The homeowner asked his question, "I've been told you are a very wise man and I need to know, should I repair my HVAC system yet again, or should I replace it?" The man stayed silent, pulled on his hair for a minute or two, then looked the homeowner in the eyes and responded, "Hey, I'm just burned out guy from the 60's who likes hanging out here by myself. When it comes to furnace repair or replacement, you need to call Merts Heating & Air Conditioning!"
We really appreciate the referral from the old gent, but the truth is there often is no clear-cut answer to the question homeowners ask us all the time. What we can tell you is when it comes to heating repairs and replacement, Merts will always give you straight talk so you can make an informed decision. We understand every situation is different, but this chart will give you a good starting point to determine if it's time to replace a unit, rather than spend more money on repairs.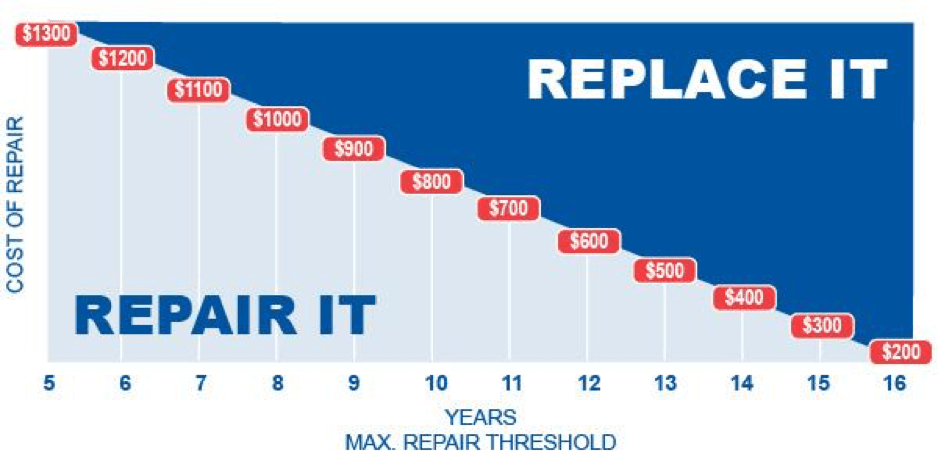 The highly trained and NATE (North American Technician Excellence) certified technicians at Merts will help you assess your options and find the right solution for your situation and budget. No heating or cooling system lasts forever, so there will come a time when a new system is the right choice. If another company has already recommended a replacement, Merts will be happy to give you a free second opinion, just to help put your mind at ease. Additionally, we offer a price match guarantee on apples-to-apples heating and cooling systems.
As difficult as the decision can be, there are real advantages to having a new system. New technology can save you as much as 30% or 40% on energy costs if your current units are 10 years old or older. The extra money can help to offset the upfront cost. A new system will also give you peace-of-mind knowing your home will be comfortable year-round.
We understand the search for answers, and the hope that a wise old man can really provide them for you. But the smart thing is to take his advice and call Merts Heating & Air Conditioning, because you should never have to settle for anything less than absolute comfort.